---
"Good Luck!"--Miss BVI To Critics
The newly crowned Miss British Virgin Islands, Khephra Sylvester, has wished all her critics good luck, in their attempts to keep her down.
In an interview last evening, following her coronation, the newly crowned Emancipation Festival queen stated that through it all, she succeeded.
Prior the pageant, Sylvester disclosed to BVI Platinum News the great deal of criticisms she received from persons of the community about her weight and other issues.
"I wish them all the luck in the world. I don't have anything else to say to them."
Having won the 2017 title, she said, "It means everything, that I was able to put my best foot forward and rise above the negativity."
Still in shock, the beauty told media professionals that she thought she had lost the entire competition, after hearing that her competitors had won more segments, and the top point segments.
She noted however, that consistency assisted her in capturing the crown.
"It really touched me when they said contestant number six. I think that my consistency is what helped me to win. I only won two segments, so I would assume I was consistent in the others."
She shared that she is excited to begin her reign and represent the Territory as best as she can, especially at the Miss Universe Pageant, which has been a dream for her since she was a child.
"I grew up watching Miss Universe; this is so exciting."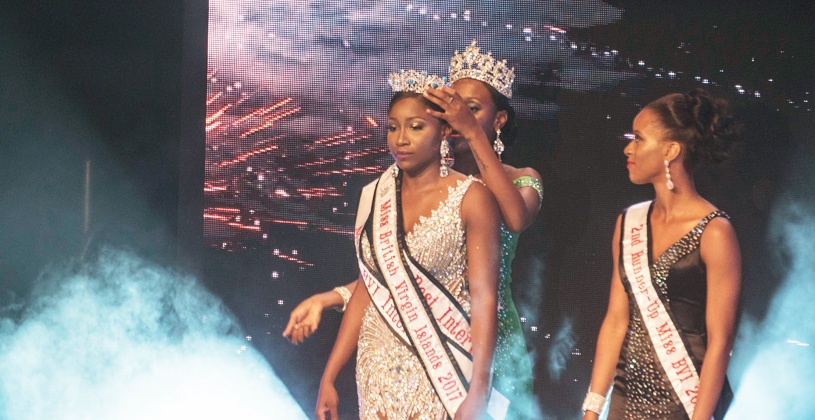 (PLTM) - The queen said she is starving for some desserts and for her charitable work to begin.
"First step now is getting some chocolate cake. On a serious note, following through with my plans to partner with the Family Support Network and work with the victims."
In advice to other beauties who aspire to enter this or any pageant, Miss BVI 2017 said, "Start from now, start prep in terms of dieting and platform, and follow you dream to the end."
Previous Article Published August 6 - Khephra Sylvester Is Miss BVI 2017
Contestant #6, Khephra Sylvester has been crowned the new Miss British Virgin Islands, 2017. Khephra also took the awards for Best Interview and Intellect.
In an unprecedented result, there was a tie for the first runner-up position, which went to contestant #2, Ayana Phillip and contestant #4, Helina Hewlett.
Hewlett also took home the awards for Miss Photogenic, Best Cultural Costume, Best Talent and Best Evening Wear, while Phillip took the awards for Most Poise and Best Swimwear. The beauties took part in the swimwear competition back on July 1.
Second runner-up went to contestant #5, Lean Francis.
The other awards, Miss Congeniality and Miss Popularity, went to contestant #1, Genesis Richards.
The 63rd annual Miss BVI pageant took place this evening, August 6, at the Multipurpose Sports Complex in Road Town. The pageant was held under the theme, 'Beauty With Purpose; Evolution of Pride and Culture'.
The show was hosted by Mrs. BVI, Zoe Walcott-McMillan and Trinidadian Comedian, Errol Fabien. The judges were Dr. Shakima Stoutt, Karl Williams, Kevin Rodriguez, Kaida Donovan-Schaub, and Gregory Lewin.
In their official order of appearance, the contestants were, #1-Genesis Richards, #2-Ayana Phillip, #3-Tecora Morgan, #4-Helina Hewlett, #5-Lean Francis and #6-Khephra Sylvester.
In an update during the competition, contestant #3, Tecora Morgan, who was ill prior to the competition, was taken away by ambulance. However, immediately following the evening wear segment, the hosts announced that Morgan was on her way back to continue with the competition.
The 2017 contestants were the first to compete in the re-branded pageant, which now sees a merger between the Miss British Virgin Islands, the Miss World BVI and Miss Universe BVI.
Miss BVI 2017 will represent the BVI at the Miss Universe and the Miss World Pageants.
Among the many prizes, Miss BVI 2017 will be capped with a custom made Mi Amor crown, made of crystals and Larimar gemstones, set in sterling silver and white gold. She will also receive a custom made BVI Jade stone ring from Samarkand, a $30,000 educational grant from the Ministry of Education, a brand new 2017 Toyota Yaris, five thousand dollars ($5,000) cash, a Larimar Jewellery set from Mi Amor Jewellers, and other amazing prizes.
1st runner-up will walk away with a BVI Jade stone ring from Samaarkan, a $10,000 educational grant from the Ministry of Education, four thousand dollars ($4,000) cash and other amazing prizes.
2nd runner-up will walk away with two thousand dollars ($2,000) cash and other amazing prizes.
-----
Copyright 2023 by Virgin Islands Platinum News. All rights reserved. This material may not be published, broadcast, rewritten, or redistributed.
Reader Opinion
Please note that the opinions posted are the opinions of its author and does not in any way reflect the views of the management, staff, parent company or sponsors of Virgin Islands Platinum News.
There are no comments to show at this time.
Cruise Schedule
IN PORT - TODAY ( 06 December )
NORWEGIAN PRIMA (3300)
6:00am
1:00pm
STAR FLYER (180)
7:30am
12:30pm
STAR FLYER (180)
2:30pm
5:00pm
EMERALD SAKARA (100)
8:00am
7:00pm
IN PORT - TOMORROW ( 07 December )
NORWEGIAN ENCORE (3998)
7:00am
3:00pm
AIDALUNA (2500)
6:30am
6:00pm
CLUB MED 2 (439)
7:30am
5:00pm
EVRIMA (298)
8:00am
10:00pm
SEADREAM I (113)
8:00am
6:00pm
SEADREAM I (113)
2:30pm
6:00pm