---
Rotary Activates Hotline; Int'l Counterparts Chip In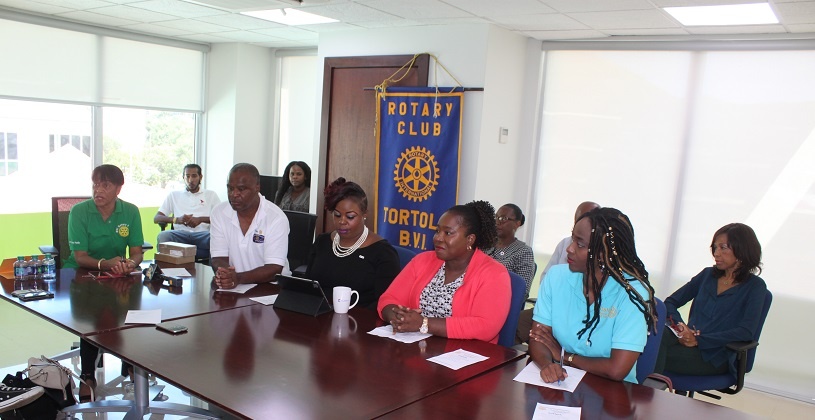 (PLTM) - As the Territory-wide restoration efforts continue by the Rotary Family of the British Virgin Islands, the organization has launched it's very own hotline, available for persons in need to call for assistance.
The body has also garnered great support from its Rotary partners abroad, to assist with the devastation and cleanup efforts over the coming days. Rotary clubs from St. Thomas, Connecticut and New Jersey, have already pledged their assistance.
This information was disclosed earlier today, August 11, following a press briefing with various Rotary heads.
Accordingly, the organization highlighted the communication barriers that currently exist in the Virgin Islands, following the flood, where service lines are down or malfunctioning.
To this, in collaboration with Digicel, the body has made available a hotline, 343 7139, where persons can access and make note of any assistance they may need.
This line, according to the body, will drive their efforts across the Territory, as they aim to assist persons who have suffered great losses following the flooding earlier this week.
Rotary's efforts are also geared towards assisting small businesses in the community, said Karia Christopher, President of the Rotary Club of Tortola.
"We know if the small businesses don't survive, then we are in trouble. So we are making a pledge right now to help the small businesses clean up there areas."
As such, Rotary and its many members and volunteers will take to the streets this weekend to assist many small businesses in their efforts of cleaning up and rebuilding their spaces.
Members will also be stationed at various supermarkets around the Territory, where persons are invited to donate food, clothes and other necessary items, that will later be distributed to families in need.
"Don't donate just food, but also important essentials, toiletries and hygienic products," said Monique Peters, President of the Rotary Club Sunrise.
Helen Frett, Director of BVI Red Cross was also on hand, to encourage persons to join the efforts and do whatever they can to assist.
So far, she noted that Red Cross is not at a point at this time to know how many families Territory-wide needs assistance, but added however, that from assessments, there are thirteen families in Purcel Estate and ten in the Crab Lot area, who really need some help.
"Some persons have lost everything and some families have nowhere to sleep. Even if mattresses are given to them, they can't really use them, as they have nowhere to put them."
Other members at the briefing were Rotary's District Governor Elect, Delma Maduro; Assistant Governor, Elvis Harrigan; President of Rotary Club of Road Town, Geraldine Johnson; and Past President of Rotary Club of Tortola, Lorna Smith.
Reader Opinion
Please note that the opinions posted are the opinions of its author and does not in any way reflect the views of the management, staff, parent company or sponsors of Virgin Islands Platinum News.
There are no comments to show at this time.