---
Push For Rapid Testing Ahead Of September Opening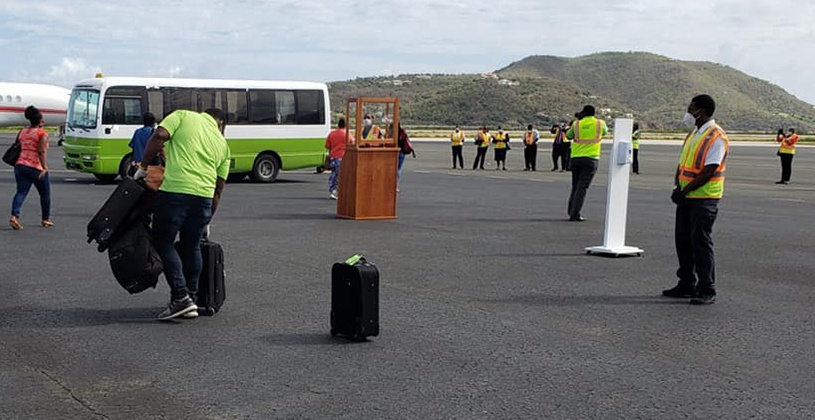 (PLTM) - The Territory's leader is pushing for the BVI to have rapid testing for the COVID-19 virus ahead of the planned August/September opening of the Territory.
Premier Hon. Andrew Fahie told the House of Assembly today, June 22 that he spoke with Caribbean leaders this morning about his view on the rapid testing.
"This morning I was speaking to some of our Caribbean leaders from the other islands about us getting together to make a very heavy push to make sure we could get more rapid tests approved by PAHO (Pan American Health Organisation) and WHO (World Health Organisation) at a faster rate so, when you get to a flight you would have to take the rapid test before you get on, wherever you going," the Premier said.
He continued, "if you test positive and you are from where you are leaving then you cannot get on the flight, if you belong to the country you are coming to that's something else, but if you test positive you cannot get on the flight. This is just an idea that I have, I am trying to push through the region. The fact is that we have to live with COVID, and I keep saying that, there is no way around it."
The Premier said that government plans to open up the Territory by August/September and this can only become a reality if certain measures are in place. The BVI has no active COVID-19 case.
"When we open up this Territory in the next couple months, my thing is after August into September when we are going to open it up, try to open it up, but that is also dependent on us doing what we have to do now so we can open up by that time," he stated.
The Premier re-emphasized that before the reopening they have a lot of measures to put in place to ensure that they protect themselves from persons coming into the territory with the virus.
"Unless there are our own people coming back in, there is nothing we can do about that and that takes a lot of negotiations from country to country, airlines," the Premier shared.
He mentioned cases in both the Caribbean and other countries where things went wrong.
"In Antigua an airline came in and when they tested them about 14 of them tested positive for the coronavirus that were coming as tourists. So, we have to be careful with these things," the Premier said.
The Premier also warned that if someone with the virus breaks their quarantine protocols the Territory will suffer another lockdown.
"They are self-quarantining and they do not stay inside and they get outside to other persons and they have the virus, I am going to tell what the results will be- the entire territory has to go on lockdown until we find all those others persons that they came in contact with," he stressed.
-----
Copyright 2023 by Virgin Islands Platinum News. All rights reserved. This material may not be published, broadcast, rewritten, or redistributed.
Reader Opinion
Please note that the opinions posted are the opinions of its author and does not in any way reflect the views of the management, staff, parent company or sponsors of Virgin Islands Platinum News.
There are no comments to show at this time.
Cruise Schedule
IN PORT - TODAY ( 06 December )
NORWEGIAN PRIMA (3300)
6:00am
1:00pm
STAR FLYER (180)
7:30am
12:30pm
STAR FLYER (180)
2:30pm
5:00pm
EMERALD SAKARA (100)
8:00am
7:00pm
IN PORT - TOMORROW ( 07 December )
NORWEGIAN ENCORE (3998)
7:00am
3:00pm
AIDALUNA (2500)
6:30am
6:00pm
CLUB MED 2 (439)
7:30am
5:00pm
EVRIMA (298)
8:00am
10:00pm
SEADREAM I (113)
8:00am
6:00pm
SEADREAM I (113)
2:30pm
6:00pm