---
No Need For Rapid Testing—Health Minister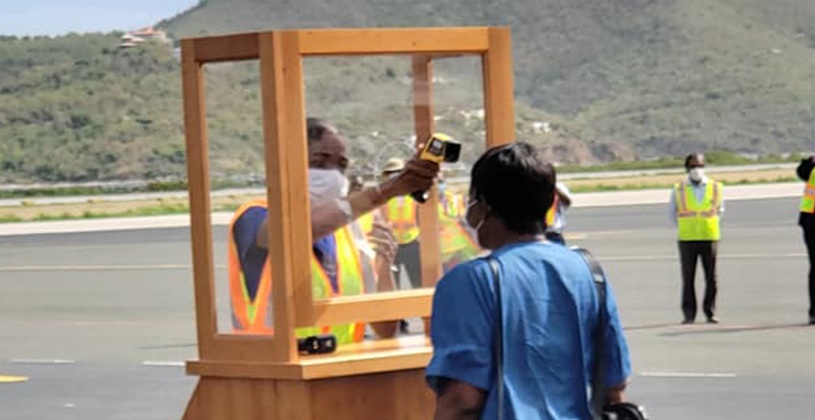 (PLTM) - There is no need for the BVI to do rapid testing for COVID-19 as the Territory looks to open up its borders in September.
In fact, Health Minister Hon. Carvin Malone said that rapid testing is not reliable and that the BVI will be using PCR, a four-hour result testing method.
"Premier (Hon. Andrew Fahie) we have a four-hour result PCR test; we don't have to wait on the rapid test anymore because the PCR is more reliable, it was told to us. We have about 3,500 kit, the availability to test 35 persons per day. Public Health England has been gracious to give us the kit to allow us to do this," Hon. Malone stated in the House of Assembly this week.
At a previous sitting this week, Premier Fahie had indicated that he is in talks with other Caribbean counterparts to take the lead for the availability of rapid testing at port of entries ahead of the reopening.
Minister Malone said that in order for the territory to accommodate 'our' people in they had to get some facilities in place so if persons are to get sick, they could be tested quickly.
"So, the partnership with Public Health England we have been able to build our capacity in a number of areas with the assistant and investment by our very own government. We have been able to put us ahead of many," he said.
While acknowledging that there is need for the economy to get rolling, the Health Minister said they have to cautious.
"The cruise ships just announced that they will not start back in July, but in September and we cannot force them to come…in fact this is a golden time to offer a free trip on a cruise ship because nobody would take it, and you wouldn't have to spend the money…we are not down playing them, they have good and valid concerns," Hon. Malone said.
The Health Minister pointed to the fact that persons in the areas such as financial services will want to come in.
"All these people will seek to come here, where are they coming from? China begin to lock down again, Hong Kong is locking down. We have issues but its not of our own making, it's throughout the world," he stated.
The BVI currently has no active case of COVID-19.
-----
Copyright 2023 by Virgin Islands Platinum News. All rights reserved. This material may not be published, broadcast, rewritten, or redistributed.
Reader Opinion
Please note that the opinions posted are the opinions of its author and does not in any way reflect the views of the management, staff, parent company or sponsors of Virgin Islands Platinum News.
There are no comments to show at this time.
Cruise Schedule
IN PORT - TODAY ( 06 December )
NORWEGIAN PRIMA (3300)
6:00am
1:00pm
STAR FLYER (180)
7:30am
12:30pm
STAR FLYER (180)
2:30pm
5:00pm
EMERALD SAKARA (100)
8:00am
7:00pm
IN PORT - TOMORROW ( 07 December )
NORWEGIAN ENCORE (3998)
7:00am
3:00pm
AIDALUNA (2500)
6:30am
6:00pm
CLUB MED 2 (439)
7:30am
5:00pm
EVRIMA (298)
8:00am
10:00pm
SEADREAM I (113)
8:00am
6:00pm
SEADREAM I (113)
2:30pm
6:00pm