---
BREAKING NEWS: Fully Vaccinated Travelers Exempted From BVI Entry Portal From Oct. 1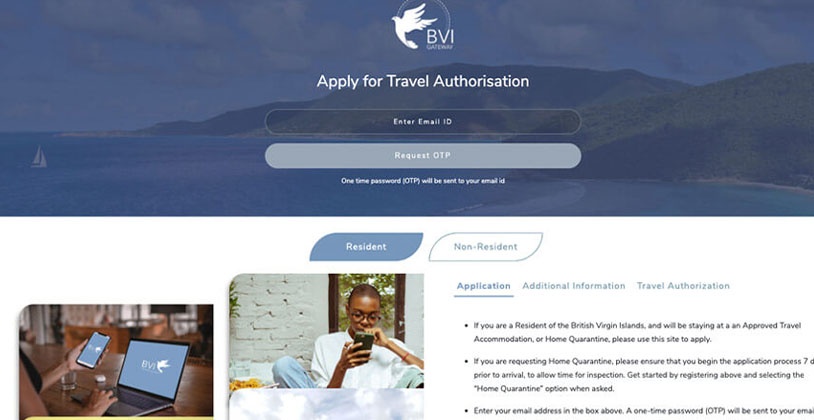 (PLTM) - Beginning October 1, all fully vaccinated travelers to the BVI including cruise ship passengers and crew will no longer have to apply to enter the BVI using the BVI Gateway Entry Portal.
Premier and Finance Minister Hon. Andrew Fahie made the announcement late this evening, September 21 during the Virgin Islands Party (VIP) radio programme.
"You don't have to worry about the portal at all if you are fully vaccinated and go through all these tests. You don't even have to tell us you are coming, you just show up at the port you are leaving from with a negative test [no older than five days], proof of vaccination and you come and when you land you have to pay for the antigen test, right now its $50 per person," he said.
The Premier who said Cabinet made the decision today, pointed out that they have also commenced the process to address the issues with the BVI Portal to make it user friendly.
"Coming into the territory you don't have to go through the portal anymore after the 1st October once you are fully vaccinated. Only fully vaccinated persons or any minor that is traveling with a fully vaccinated person. All other persons not in that category going to have to use the portal still, and that is in the process of being updated so it will be more user friendly," he said.
Also, there are heavy fines attached to any passenger or carrier who breach the new rules. The transporter will be fined up to $10,000 per passenger and passengers will be individually fined up to $5000.
He said it is the duty of the carrier to ensure that each passenger produce a valid negative COVID-19 test and a valid vaccination card.
"But we must ensure that we are clear with this, if any ferry or any carrier, water taxi, airline, chartered plane, anything that is coming into the territory with passengers and they do not make sure that the persons who are fully vaccinated have furnished them their valid five day PCR, or rapid antigen test stating negative and also furnish with the proof of their vaccination, they should not allow them to board," he explained.
The Premier further warned, "but if you do collect that and you put them on the plane and saying they are vaccinated so you are bringing them, be aware that you are going to be find per passenger and the passengers themselves will be fined or [face] imprisonment where applicable."
For government, this is a game changer for the economy.
"Now this means after October 1, you can bring a fully vaccinated ferry, charter straight to Jost Van Dyke from international…straight to Anegada, Virgin Gorda, and West End [ports], those are the fully vaccinated ports. If you are traveling with persons not vaccinated you have to go to Road Town or if you are traveling with persons who did not fit this vaccination exemption of the portal you have to go to Road Town, and use the portal," Premier Fahie said.
He said the government is committed to balancing lives and livelihood.
"Generate more business in the marine sector, charter boat sector, business sector overall…once COVID-19 is around you are going to have risks. The question is what is the level of risk you are willing to managed. So, we are looking after this start October 1, to be a game changer for our economy," the finance minister expressed.
The Premier said they have started preliminary discussions on opening more ferry trips for persons traveling to and from neighboring St. Thomas, USVI.
"Because now you can get your test from here and go St. Thomas for the day and come right back up because your test will still be valid," he said. Premier Fahie admitted that there will be some gray areas initially but assured more information will be provided to the public.
-----
Copyright 2023 by Virgin Islands Platinum News. All rights reserved. This material may not be published, broadcast, rewritten, or redistributed.
Reader Opinion
Please note that the opinions posted are the opinions of its author and does not in any way reflect the views of the management, staff, parent company or sponsors of Virgin Islands Platinum News.
There are no comments to show at this time.
Cruise Schedule
IN PORT - TODAY ( 06 December )
NORWEGIAN PRIMA (3300)
6:00am
1:00pm
STAR FLYER (180)
7:30am
12:30pm
STAR FLYER (180)
2:30pm
5:00pm
EMERALD SAKARA (100)
8:00am
7:00pm
IN PORT - TOMORROW ( 07 December )
NORWEGIAN ENCORE (3998)
7:00am
3:00pm
AIDALUNA (2500)
6:30am
6:00pm
CLUB MED 2 (439)
7:30am
5:00pm
EVRIMA (298)
8:00am
10:00pm
SEADREAM I (113)
8:00am
6:00pm
SEADREAM I (113)
2:30pm
6:00pm