---
Anegada Airport Staff Hit By COVID-19; Operating Fewer Hours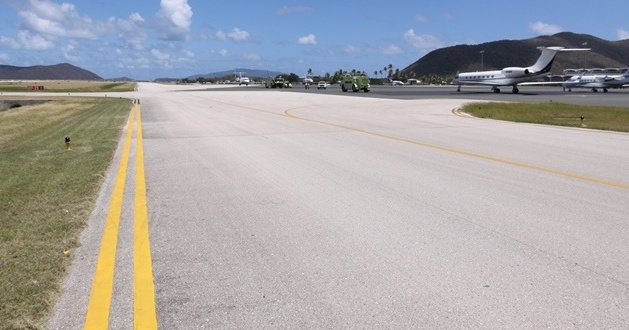 (PLTM) - Commencing today, Thursday, January 13, the Auguste George International Airport, (TUPA), will be operating fewer hours due to staff being hit by COVID-19.
According to the latest dashboard update issued by the Government, there are 1,387 active, positive COVID-19 cases, with some 57 of that figure on the small population of Anegada.
The press release from the BVI Airports Authority (BVIAA) said that the Ag. Managing Director of the BVIAA, Mr. Keith L. Flax informed the travelling public that beginning today, the daily, operational hours of the airport will be: 9:00 am to 5:00 pm through to Saturday 22 January 2022, in the first instance.
The release continued: "Flights into TUPA will operate fully on a PPR (Prior Permission Required) basis through to Monday 31st January 2022, in the first instance."
Furthermore, the Ag. Managing Director said only domestic flights will be allowed to operate at the airport.
Staff Affected
In the meantime, Flax said the revised operational hours, "is in response to a wave of COVID-19 related illnesses that afflicted the staff."
He said the travelling public can be assured that the BVIAA stands committed with the Government of the Virgin Islands as it exerts all efforts to manage and bring under control the number of staff afflicted by the virus.
He also apologized for any inconvenience caused and thanks the travelling public for its continued cooperation in ensuring that safety, which is their number one priority, is at all times maintained.
Reader Opinion
Please note that the opinions posted are the opinions of its author and does not in any way reflect the views of the management, staff, parent company or sponsors of Virgin Islands Platinum News.
There are no comments to show at this time.
Cruise Schedule
IN PORT - TODAY ( 06 December )
NORWEGIAN PRIMA (3300)
6:00am
1:00pm
STAR FLYER (180)
7:30am
12:30pm
STAR FLYER (180)
2:30pm
5:00pm
EMERALD SAKARA (100)
8:00am
7:00pm
IN PORT - TOMORROW ( 07 December )
NORWEGIAN ENCORE (3998)
7:00am
3:00pm
AIDALUNA (2500)
6:30am
6:00pm
CLUB MED 2 (439)
7:30am
5:00pm
EVRIMA (298)
8:00am
10:00pm
SEADREAM I (113)
8:00am
6:00pm
SEADREAM I (113)
2:30pm
6:00pm