---
Fending Off Direct Rule! Unity Gov't Submits Plan To UK For Continued Democratic Governance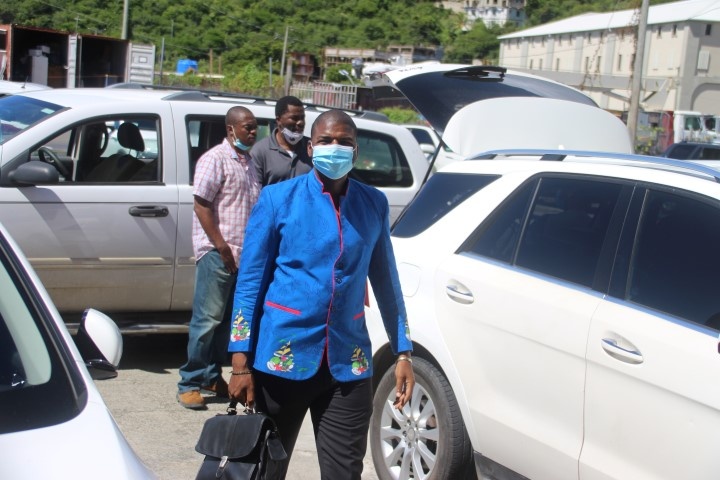 (PLTM) - Hoping to avoid the United Kingdom implementing a temporary direct rule, the multi-party National Unity Government has mapped a plan to address Government deficiencies and concerns about corruption contained in the Commission of Inquiry (CoI) report.
All of this comes less than a week after the formation of the new Government which was sworn in last Thursday, May 5 following the passage of a no-confidence motion for the removal of the Virgin Islands Party (VIP) administration of former Premier Andrew Fahie who is detained in Miami on cocaine trafficking and money laundering charges.
"I am pleased to report on behalf of the Government of National Unity that I have submitted a proposal to UK Minister for the Overseas Territories the Rt. Hon. Amanda Milling that sets out our approach to reform and presents a framework for implementation under continued democratic governance," said Premier and Minister of Finance, Dr. Natalio Wheatley in a public address on Wednesday, May 11.
He added, "It represents our commitment to good governance and strengthening our institutions and systems of Government. We want to engender a new culture in the handling of the people's business."
Premier Wheatley expressed the hope that Minister Milling and the UK Government will give due consideration to the proposal and not go down the path of direct rule.
"We stand ready to work as partners with the UK and in close cooperation with Governor [John] Rankin," Dr. Wheatley stated.
He assured residents that the Government will soon be coming to the public to explain their firm plans to improve governance in the Virgin Islands along with plans to ensure the proper management of our society. An announcement on dates will be made shortly.
Premier Wheatley appealed that these are times when all party affiliations and personal ambitions and agendas must be set aside, and work together for the greater, long-term good of 'our beloved islands and all our people'.
"As we work together, cutting across party lines, we will be holding each other accountable based on the commitments we made in order to forge the Government of National Unity," Premier Wheatley stated.
He said Government has been engaged in a series of meetings to map the way forward for the Virgin Islands. On Monday, 9 May, Government held its first Caucus followed by the first Cabinet meeting on Wednesday.
Quick Action
Following the release of the CoI report, Minister Milling travelled to the Territory and held several closed-door meetings with elected officials, business, community and religious leaders to discuss steps to be taken to address corruption and accountability in governance.
In a pre-recorded message released following her departure from the Territory on Wednesday, May 4, Minister Milling said she has a lot to consider.
"I will share the feedback from the range of individuals and groups I have met with the Foreign Secretary, and we will discuss what steps to take next," Minister Milling stated.
No timelines were provided for firm decisions to be delivered by the UK, but some residents and regional institutions have been pushed back against the CoI's recommendation for there to be a temporary return to UK rule.
Minister Milling has committed to discussions with Governor Rankin and Dr. Wheatley on how to tackle the issues which are holding back the development of the BVI.
"This must happen quickly. The people of the BVI deserve no less. You deserve a government which works in everyone's interests, not just those of a few. A system which promotes and protects, not divides and instils fear. A future which is bright, not overcast by the dark shadows of crime and corruption," Minister Milling outlined.
-----
Copyright 2023 by Virgin Islands Platinum News. All rights reserved. This material may not be published, broadcast, rewritten, or redistributed.
Reader Opinion
Please note that the opinions posted are the opinions of its author and does not in any way reflect the views of the management, staff, parent company or sponsors of Virgin Islands Platinum News.
There are no comments to show at this time.
Cruise Schedule
IN PORT - TODAY ( 06 December )
NORWEGIAN PRIMA (3300)
6:00am
1:00pm
STAR FLYER (180)
7:30am
12:30pm
STAR FLYER (180)
2:30pm
5:00pm
EMERALD SAKARA (100)
8:00am
7:00pm
IN PORT - TOMORROW ( 07 December )
NORWEGIAN ENCORE (3998)
7:00am
3:00pm
AIDALUNA (2500)
6:30am
6:00pm
CLUB MED 2 (439)
7:30am
5:00pm
EVRIMA (298)
8:00am
10:00pm
SEADREAM I (113)
8:00am
6:00pm
SEADREAM I (113)
2:30pm
6:00pm