---
JTF Intercepts Boat With Ammunition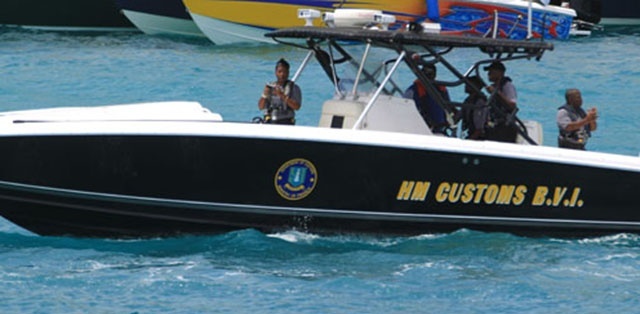 (PLTM) - Five persons were arrested for illegal entry into the BVI after officers of the Joint Task Force detected a vessel that travelled from the USVI into the BVI without making clearance late yesterday evening, November 13
The five persons, two males and three females, all residents of St. Thomas, USVI, were detained after searches of bags onboard the vessel yielded a firearm magazine with ten rounds of ammunition.
The boat was seized, and the occupants taken into Police custody.
Apart from the charge of unlawful possession of ammunition, the captain of the vessel, Patrick Faudrois, 29, a native of Haiti, residing in St. Thomas, was fined for various immigration and customs breaches.
He will appear in Magistrate's Court at the next available sitting.
The other four occupants were subsequently discharged.
-----
Copyright 2023 by Virgin Islands Platinum News. All rights reserved. This material may not be published, broadcast, rewritten, or redistributed.
Reader Opinion
Please note that the opinions posted are the opinions of its author and does not in any way reflect the views of the management, staff, parent company or sponsors of Virgin Islands Platinum News.
Xofficer
what's the outcome with the police boat transporting an illegal police on the Royal police Boat between st thomas to tortola or vice versa?
police
The outcome is that get your facts straight, too damn mete.
Streups
The guy straight and is a really cool dude. Tola police just being extra.
???
Straight or not, rules and regulations are there to be followed. He knew it was wrong and still proceeded to do so.
ki
wow this may have saved a few lives
Cruise Schedule
IN PORT - TODAY ( 06 December )
NORWEGIAN PRIMA (3300)
6:00am
1:00pm
STAR FLYER (180)
7:30am
12:30pm
STAR FLYER (180)
2:30pm
5:00pm
EMERALD SAKARA (100)
8:00am
7:00pm
IN PORT - TOMORROW ( 07 December )
NORWEGIAN ENCORE (3998)
7:00am
3:00pm
AIDALUNA (2500)
6:30am
6:00pm
CLUB MED 2 (439)
7:30am
5:00pm
EVRIMA (298)
8:00am
10:00pm
SEADREAM I (113)
8:00am
6:00pm
SEADREAM I (113)
2:30pm
6:00pm