---
Funding Needed For Additional Work On VG Medical Centre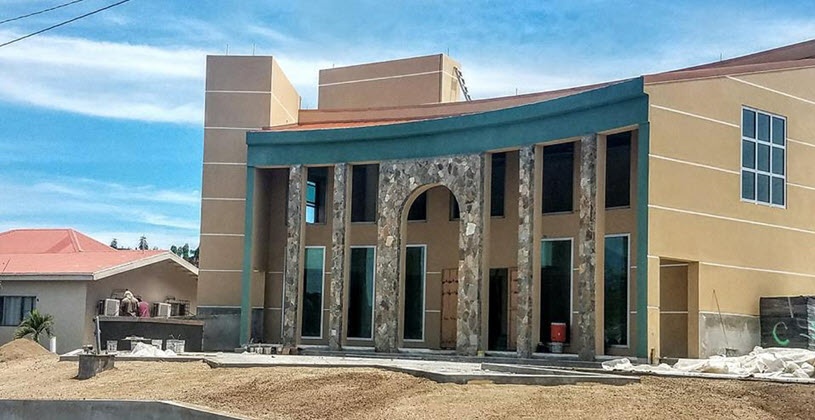 (PLTM) - Minister for Health and Social Development, Hon. Marlon Penn has assured that work is to be done on the second floor of the Nurse Iris O'Neal Medical Centre on Virgin Gorda.
"Madam Speaker, subject to funding being allocated in the 2023 Budget Estimates, the Ministry is ready to commence the design and interior fit out works, as well as the procurement of furnishing and equipment required to bring 2nd floor of the Nurse Iris O'Neal Medical Centre into operation during the coming year," Hon. Penn stated in response to questions posed by the opposition member, Hon. Carvin Malone.
Hon. Malone, who was the Minister of Health under the Virgin Islands Party (VIP) a few months ago, posed questions to Hon. Penn about plans for the hospital also monies spent thus far.
Hon. Penn disclosed that $8,128,643.13 has been spent to date and a further $22,000 on landscaping.
There was no timeline provided for the commencement and completion of works associated with the second floor of the health facility.
Hon. Penn stated that it is envisaged that the second floor will provide a comprehensive offering of primary intervention services. He said that spaces will be configured to house physiotherapy and rehabilitation services, audiology and hearing services, as well as the relocation of the mental and dental services. "Additionally, primary care physician and nursing services will be expanded in the new space to fully allow for the delivery of chronic disease programmes, as well as the expansion of specialist services to meet the priority healthcare needs of the Virgin Gorda community," Hon. Penn stated.
He said while the specific range of services may evolve over time, the rationale for all decisions regarding future expansion of healthcare services should be guided by health needs assessments and the capacity of the health system.
Currently, the healthcare services being provided at the Medical Centre include general medical care for both adults and children, along with specialist services such as obstetrics, pediatrics, and diabetes care.
According to Hon. Penn, nutritional and pharmacy services are also available, and a limited range of laboratory services are being introduced.
-----
Copyright 2023 by Virgin Islands Platinum News. All rights reserved. This material may not be published, broadcast, rewritten, or redistributed.
Reader Opinion
Please note that the opinions posted are the opinions of its author and does not in any way reflect the views of the management, staff, parent company or sponsors of Virgin Islands Platinum News.
What are you waiting for!?
This makes me so mad! Hush you mouth and finish the project. You spent $8 million so far (how on earth!?). But the fact remains we that live in Virgin Gorda have to travel to Tortola for anything serious.
You are the Health Minister, why is the Gun Creek Clinic not open?? People injured in North Sound need care. Don't tell me it costs money to clean the mold! Of course it costs money. You tax everyone for everything - spend that money to clean the Clinic!
How are these Fools still in office!? Why are these fools making these stupid statements!?
We need hospitals, clinics, health care...the system was better before Irma. The system was better before NHI. This current health setup works OK if you live in Tortola but costs me more money out of my paycheck every week.
Just fix this stuff!
What.
Something must be wrong. Didn't NDP had a big ceremony to celebrate the completion and opening of this facility.? Is this another medical facility on VG.?
NeverEndingStory
From the BVI Beacon - September 2016 - After years of delays, Virgin Gorda residents will likely have to wait at least another eight months for the new Iris O'Neal Medical Centre to be finished, according to a timeline provided last week by Health and Social Development Minister Ronnie Skelton. The project began in 2009 when government purchased a half-acre property for $1.1 million.

Architectural plans were released to the public in May 2010, but the project was delayed after a Commercial Court ruling dissolved the firm that had completed the initial designs.

Design plans were reintroduced in May 2013.

In June 2014, Mr. Skelton said he expected the clinic's construction to be finished within 18-24 months from then.

In March 2015, James Todman Construction Ltd. signed a $6 million contract to build the 18,000-square-foot facility.

At the time, MHSD Permanent Secretary Petrona Davies said she expected the project to be completed within 12 months.
WOW
VG is a place which has plenty billionaires with big billion-dollar businesses and ayo can't get them to finish this project?
vg resident
Shameful This was to complete4d several years ago. Meanwhile Ministers travel to conferences about all sorts of things wasting time and money.
wait
But was a new youth centre not just promised or was it 2?
Lodger
Weren't we told it was complete?
lol
That organization is a financial black hole. Money goes in nothing comes out.
so wait...
22k on landscaping and the place still need furniture?
Just me
8 Million plus up to date !!!!!!
I would like to see a breakdown as to where all that money went.