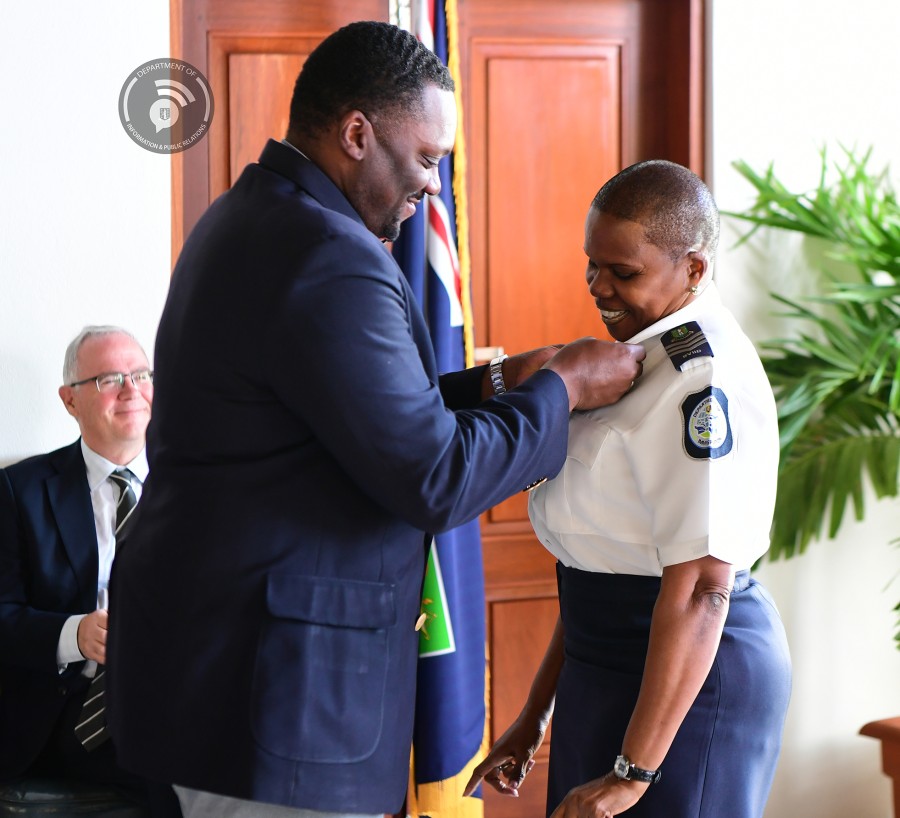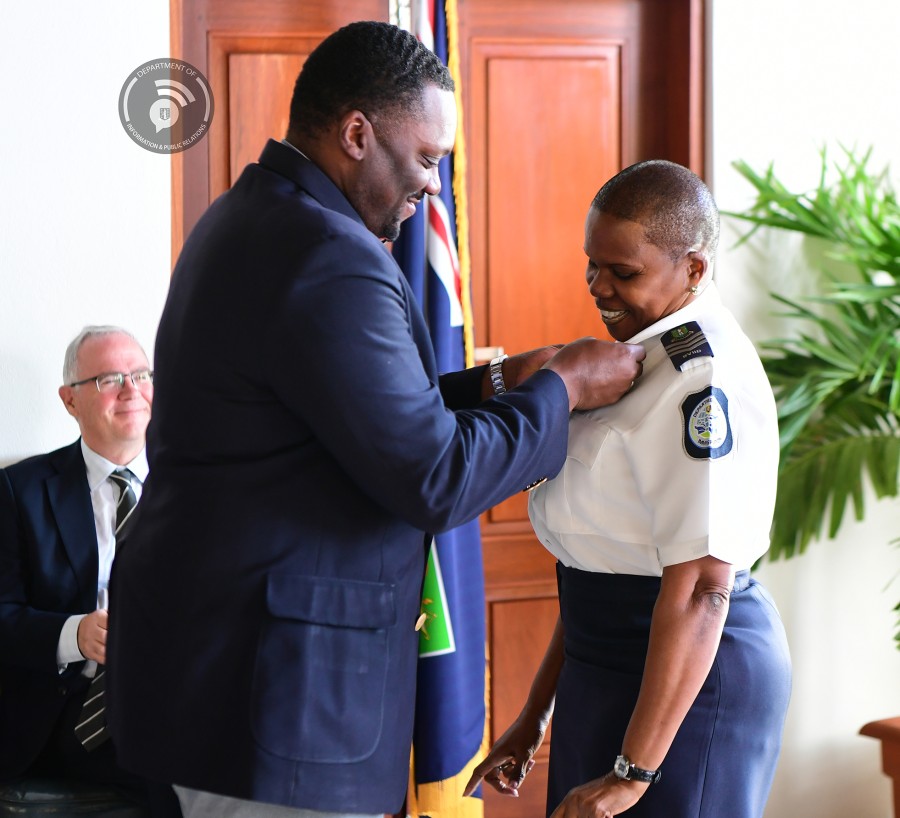 Some 25 Public Officers were awarded for exemplary customer service at the Public Service Star Membership Club pinning ceremony.
The ceremony was held at the Government House Reception Hall where awardees were personally congratulated by His Excellency the Governor Mr. John J. Rankin and Deputy Governor Mr. David D. Archer Jr for their high level of commendations from customers.
The Governor noted in his congratulatory remarks that while awardees were being pinned by the Deputy Governor and himself, they have in actuality received these accolades courtesy of the public.
"You are receiving these awards because of the highly positive feedback you have received from your customers through the Rate Us system. So, this isn't an award just given to you by the Governor and Deputy Governor, but also the public who recognised you and rated you for all that you do," the Governor said.
Meanwhile, the Deputy Governor chose to remind the honourees of their fellow officers who have not yet reached their potential to deliver excellent customer service.
"It's not good enough to be great by yourself. You know within your own departments there are persons who don't live the mantra or ethos of serving customers well every single day like you do. Collectively, we have to work together. So, while you are being continuously praised, I want you to bring someone else along with you," Mr. Archer explained.
Ms. Adrienne Duchene from the Immigration Department spoke on behalf of the awardees and mentioned the importance of Public Service Star members setting the example.
"Fellow awardees, we have done well and we are being recognised for doing our jobs well. I am proud of you and you are to be proud of yourselves too. Each one of us can help change the culture of the Public Service by continuing to be the example we need our co-workers to be. Are you willing to take on the task? I know I am," Ms. Duchene said.
The Public Service Star Membership Club is an award scheme based on the Government's Rate Us platform, which allows the public to rate the service they've received from various public officers through an online form.
The newest Public Service Star Membership Club awardees are:
* Dwaheil Donovan, Immigration Department – Bronze Star Membership
* Carla Morton, BVI Post Office – Bronze Star Membership
* Janice Callwood, BVI Post Office – Bronze Star Membership
* Shanesen Turnbull, BVI Post Office – Bronze Star Membership
* Shona Bertrand, BVI Post Office – Bronze Star Membership
* Kiarah Daniel, Civil Registry and Passport Office – Bronze Star Membership
* Kiwana Gordon, Civil Registry and Passport Office – Bronze Star Membership
* Shannel Frett, Civil Registry and Passport Office – Bronze Star Membership
* Sally Penn, Department of Motor Vehicles – Bronze Star Membership
* Adrienne Duchene, Immigration Department – Bronze Star Membership
* Denice Rouse, Immigration Department – Bronze Star Membership
* Iona Fahie, Collins, Immigration Department – Bronze Star Membership
* Latoya Todman, Inland Revenue Department – Bronze Star Membership
* Stacy Christopher-Smith, Ministry of Communication and Works – Bronze Star Membership
* Eris James, BVI Post Office – Silver Star Membership
* Chamanda Smith, Civil Registry and Passport Office – Silver Star Membership
* Gavin August, Civil Registry and Passport Office – Silver Star Membership
* Damita Romney, Department of Motor Vehicles – Silver Star Membership
* Kyshlyn Meyers, Department of Motor Vehicles – Silver Star Membership
* Felina D. Moss, Civil Registry and Passport Office – Silver Star Membership
* Tori Hillhouse, Deputy Governor's Office – Gold Star Membership
* Deria Joseph, Department of Motor Vehicles – Elite Star Membership
* James Richards Department of Trade, Investment Promotion & Consumer Affairs – Elite Star Membership
* Beverly Smith, Ministry of Education, Youth Affairs and Sports – Elite Star Membership
* Evette Christian, Ministry of Education, Youth Affairs and Sports – Elite Star Membership