---
Four Dogs Put Down After Vicious Attacks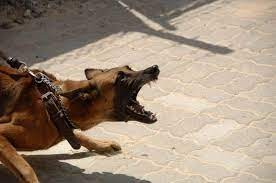 (PLTM) - The Royal Virgin Islands Police Force ordered four dogs euthanised over the weekend following incidents of each either injuring persons, or maiming or killing livestock.
According to police, the latest in a series of dog attacks was on Saturday in Pleasant Valley where a neighbour's dog entered an adjacent property and bit the foot of a guest of the property owner. The property owner reported that the dog, which is unregistered, had been seen off-leashed in the neighbourhood and had been on his property in the past.
The owner of the dog was subsequently reported for having an unregistered dog and warned of prosecution in relation to injuries sustained to the victim.
The three other dogs owned by a Sea Cows Bay resident were also unregistered and had, on several occasions, attacked and injured tenants residing on his property in addition killing livestock in the area.
The RVIPF is reminding dog owners of this undesirable outcome should dangerous animals be allowed to roam the neighbourhood freely and without restraint.
The Pounds and Livestock Brands Act, 2004 makes provision for any animal found straying in a public place or trespassing on any private land to be captured and impounded. The Dogs (Prevention of Injury to Person, Livestock and Poultry) Act, 2001 further states that officers are in right to destroy, either by shooting or put down in some other manner which will cause as little pain as possible, any dangerous dog.
Dog owners are reminded of their responsibility to secure these animals, so they are not a danger to the public or to livestock. Owners must also register their dogs with the Department of Agriculture and place the ID registration tags on the collar of the dog.
-----
Copyright 2023 by Virgin Islands Platinum News. All rights reserved. This material may not be published, broadcast, rewritten, or redistributed.
Reader Opinion
Please note that the opinions posted are the opinions of its author and does not in any way reflect the views of the management, staff, parent company or sponsors of Virgin Islands Platinum News.
Brains
Instead of killing every stray and never managing to keep up why not mandate neuter/spay to keep populations manageable?
Really...
They never put down the dog that attack my livestock and wanted to attack me too. Was it because the owner was one of them?
Not fair to the dogs
The dogs that was put down didn't kill anyone. The dogs didn't viciously attack anyone. People here like to embellish things. The dogs had to suffer for the ignorance of their owners. The killers that is walking around the Island needs to be round up and put down.
Outsider
And tell us about our taxpayers dog at the handling of a customs officer. A life is a life!
Crying shame
First I should say, why don't they start euthanizing the killers that is roaming around freely.