---
April 24 Is Elections Day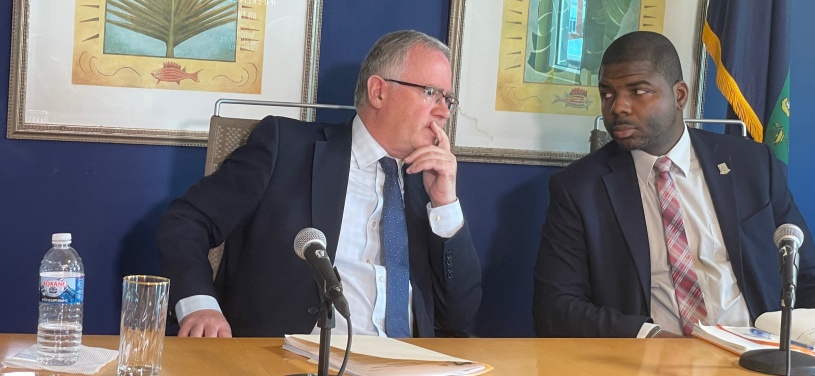 (PLTM) - General elections in the BVI will be held next month, April 24.
In a press release issued this evening, March 15, it was stated that Governor John Rankin has signed a proclamation to pave the way for the 2023 General Elections.
"Additionally, in accordance with section 86 of the Virgin Islands Constitution Order 2007, Governor Rankin issued a proclamation and appointed Monday, April 24 as the date on which the next general election will be held in the Territory," the release said.
Section 86 of the Virgin Islands Constitution Order 2007 states, "a general election shall be held at such time within two months, but not earlier than twenty-one days, of the dissolution of the House of Assembly as the Governor shall appoint by proclamation published in the Gazette".
The House of Assembly was dissolved on March 10, 2023.
-----
Copyright 2023 by Virgin Islands Platinum News. All rights reserved. This material may not be published, broadcast, rewritten, or redistributed.
Reader Opinion
Please note that the opinions posted are the opinions of its author and does not in any way reflect the views of the management, staff, parent company or sponsors of Virgin Islands Platinum News.
FACIAL EXPRESSION
is saying )> ( Gov) you know son , I've been having second thoughts , ( PRE ) about wah ?
Concern Citizens - BVI
To: The Premier
From: Concern Citizens of this Territory

Another Snap Election just like what happened in the Past
The Other Parties are not ready. The time is too short for other Parties to be prepare.

We are not voting for anybody until they get the Roads fixed, all the derelict: Vehicles, Boats, Containers, Trucks and Machineries, clean up from this Territory.

The whole place looks like a garbage heap. Everywhere you go is garbage and derelict items. Side Walks and Road Side have become parking lots and garages. To add to the distress, everywhere you go especially in the Road Town and Purcell area the place smell stink with sewerage and water running here and there.

Furthermore, the Sixth (6) District has been neglected since the 2017 Flood and Hurricanes and it looks like we do not have a representative anymore.

Signed: Concern Citizens
Wagon wheel
You are not speaking for me. Roads are the least of issues at the moment.
Irish potatoes
This is degrading. Imagine OUR Premier was robbed of the opportunity to vocally announce the date for Election. Blatant proof that our constitution has been suspended.
'My Country'
Which Premier have you ever observed not Publicly stated the election date. Only this pupp....
Get a life
Or, could it possibly be that the Premier wrote asking for an election, requesting a specific date, and the governor gave assent? Check the protocols before spouting off.
Street Reporter.
VIP look stronger than the rest. 6 sure seats, possibly 7. Not a fan of VIP but I will take OJ over the concrete column in #3. .
Talk that!
OJ disappeared for too long.....CANT BE TRUSTED AFTER TAKING TAXPAYERS MONEY PRE..... TO BE A FA... ADVISOR FOR VIP IN EXCHANGE TO RUN AGAINST FRAZER